Is there anything worse than your alarm going off in the morning? If you're anything like me, you're guilty of hitting snooze too many times to try and squeeze in as much sleep as possible which always feels like a good decision at the time but it means you're left rushing around trying to get ready. When you're short on time, you need to have a quick and minimal makeup routine nailed so you can still apply makeup even when you're in a rush, here are some product recommendations for a speedy makeup routine.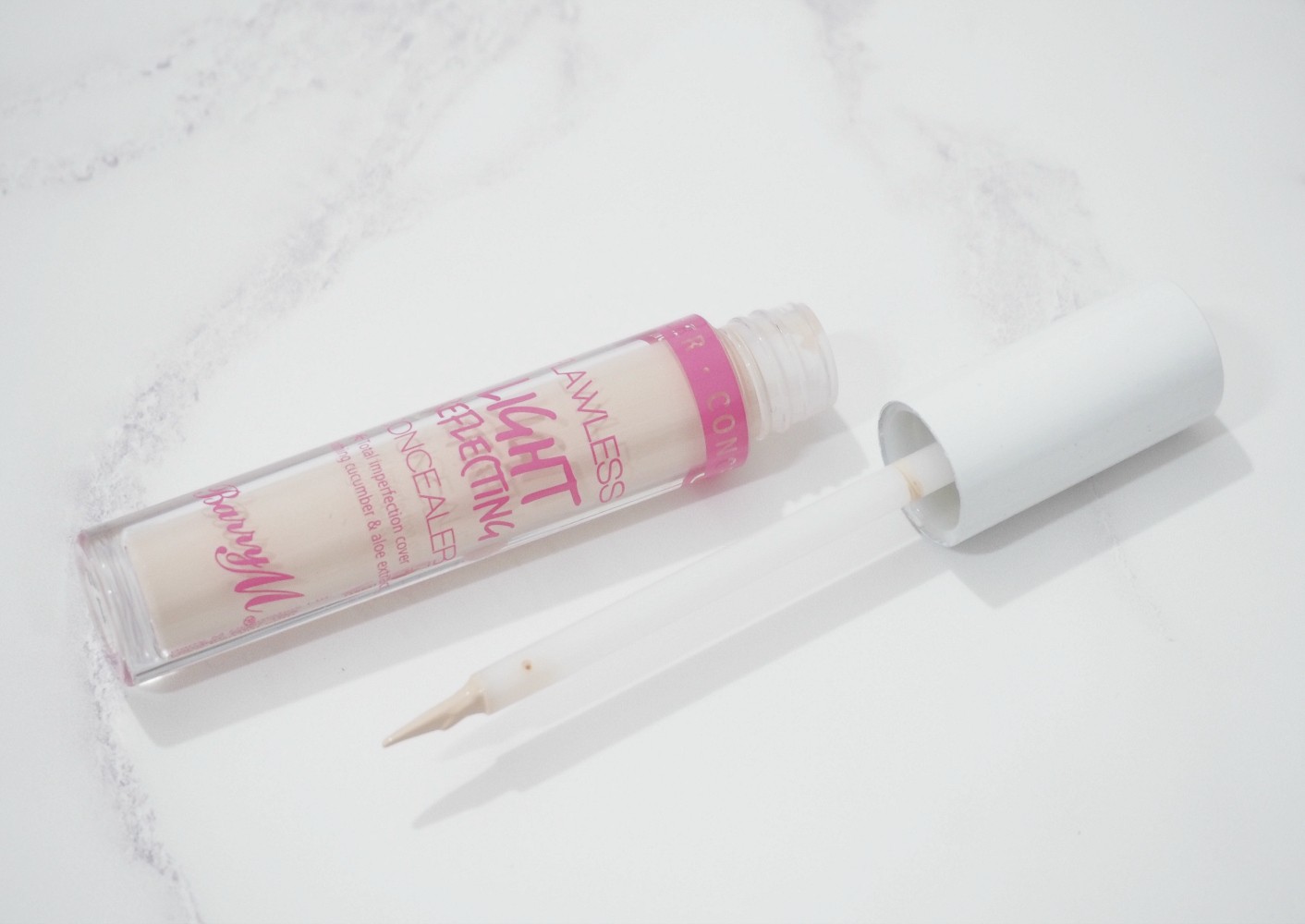 My base products of choice will always differ depending on the condition of my skin. If I'm having a particularly good skin day, I'll tend to use a concealer for my base but if my skin's not behaving, I'll opt for a BB cream or tinted moisturiser which are easy to apply. The Barry M Flawless Light Reflecting Concealer is a great option as it offers a decent amount of coverage for any skin imperfections but it also has somewhat of a radiant finish so you can also use it under your eyes to conceal and brighten any darkness. The concealer is infused with cucumber and aloe extracts to sooth and revitalise the skin, so it's in all in one concealer which is quick and easy to apply/blend so it allows me to perfect my base in under a minute.
When you're short on time, I'd really recommend utilising palettes where possible as it's super handy to have multiple products in the one palette. The Sleek Face Form Palette is the perfect example of a time saving palette as it contains your contour/bronzer, your blusher as well as your highlighter all packaged within a travel friendly palette. If you're really in a rush, I'd recommend skipping contouring completely and instead use a large fluffy brush and use the contour shade as a bronzer to add a little warmth to your complexion. I really like that the contour shade in the palette is relatively cool toned so you can use it as a contour shade and/or a bronzer.
The highlighter is a pretty champagne shade which I like to use on the cheekbones, browbones and on the inner corners of my eyes but you could definitely use it as a shimmery eyeshadow with the contour shade as your crease shade too. The blush shade within the 'Fair' Face Form Palette is the Sleek Rose Gold Blush which is a dupe of the NARS Orgasm blush; a rosy pink shade with golden shimmer. If you're short on sleep, this blush shade is really effective at brightening the complexion and making you look like you're well rested, even if you're not.
I haven't stopped using the Wet 'n Wild Photo Focus Palette in 'Coming in Latte' since I got it as it's such a beautiful, affordable eyeshadow palette. This particular palette contains ten powder eyeshadows in a nice mix of warm and cool toned shades with mattes and shimmers. I can even use the ninth shade in the palette as my brow powder as it's a matte deep brown shade matches my brows really well. The shadows within the palette are all of stunning quality especially for the price with great pigmentation and they're all very smooth, even the matte shades. When I'm in a rush I like to use the sixth shade which is a matte light brown within my crease and any of the shimmers on my lid and it takes only a couple of minutes to do both eyes.
The palette contains a dual-ended eyeshadow brush with one end of the brush designed to apply colour to the lid, and the opposite end is a blending brush for diffusing shadow within the crease. I like that I don't need to use an eyeshadow primer when using these shadows but you could always use your concealer or foundation on the lids instead of a primer if you can't get away without using an eyeshadow primer. It's such a stunning palette at an amazing price and there are no disappointing shadows whatsoever.
I don't think there's a lot of time you can save when it comes to mascara apart from ensuring you're using an easy to apply formula which doesn't clump and doesn't require you to wait for each coat to dry. The L'Oreal Volume Million Lashes So Couture So Black is my current go-to mascara and I'm really happy with it as it evenly coats my lashes whilst also fully separating my lashes. It adds drama to my lashes as well as holding a curl without smudging or crumbling throughout the day, and I only ever need to apply two coats so it's a really good option when you're in a rush.
Cream blush sticks are the perfect product when you're short on time as you can literally swipe and blend with your fingertips without needing to use brushes. The Barry M Make Me Blush Cream Blusher in Peach Melba is a lovely peach shade which you can use on the cheeks and lips, with a twist-up style packaging so you don't have to worry about sharpeners. I do two small stripes on my cheeks with the stick and use my fingertips to blend the cream into my skin which is very quick and easy to do but you could always use a duo-fibre brush for blending too. For my lips I simply put some of the blush on my fingertip and dab my fingertip over my lips for a subtle peach tint, and it takes a matter of seconds to do both your cheeks and lips thanks to this handy stick.
We would love to know your go-to beauty products when you're in a rush?